Event
2015 International Symposium
Invented 'History' and the Representation of Minorities' Memory:
 Exploring the Possibility of Multicultural Coexistence
   *Langage: Japanese/English (simultaneous interpretation available)
   *Admission is free, but advance registration is required.
The synchronized terrorist attacks that occurred in the U.S.A. on September 11, 2001, shocked and terrified the world, throwing a dark shadow on the 21st century.  In order to escape from the persistent fear of terrorism, people tend to exclude others who have different backgrounds and values, believing that by doing so they can build a homogenous, peaceful society.  However, does such an exclusive society, amplifying the monolithic voice and silencing others, show us the road to peace?  Rather, is it not multicultural coexistence, as a means to promote mutual understanding, that we need to pursue?  In this symposium, we will consider some examples from the U.S.A. and Japan, in order to explore the possibility of peaceful multicultural coexistence.  We will do this by reflecting on the invention of the "official story" to manipulate history and by reinterpreting the representations and the memories of those who have been oppressed.
●DATE/TIME: Wednesday, June 24, 2015 14:00-17:30 (Doors Open at 13:30)  
●VENUE: Conference Room, Main Building 10th floor, Shirokane Campus,
Meiji Gakuin University
     (1-2-37 Shirokanedai Minato-ku Tokyo, 108-8636 Access)
※Advance registration is required.
Please send your name, affiliation, and contact details with "2015 Symposium" in the subject line by June 23, 2015 to: frontier@k.meijigakuin.ac.jp.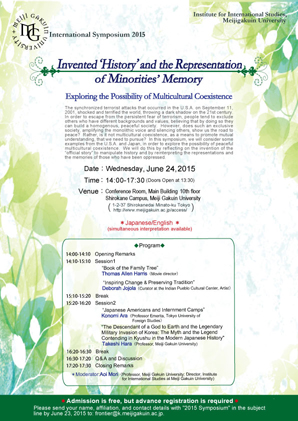 13:30-14:00
Registration
14:00-14:10
      
Opening Remarks
14:10-15:10
Session 1

 

Thomas Allen Harris (Movie director)
 Topic: Book of the Family Tree
Deborah Jojola (Curator, Indian Pueblo Cultural Center, Artist)
 Topic: Inspiring Change & Preserving Tradition
15:10-15:20
 Break
15:20-16:20
Session 2
Konomi Ara (Professor Emeritus, Tokyo University of Foreign Studies)
 Topic: Japanese Americans and Internment Camps
Takeshi Hara (Professor, Meiji Gakuin University)
 Topic:
The Descendant of a God to Earth and the Legendary Military Invasion of Korea: The Myth and the Legend Contending in Kyushu in the Modern Japanese History
16:20-16:30
Break
16:30-17:20
Q & A and discussion
17:20-17:30
Closing Remarks

<Moderator>
Aoi Mori (Professor, Meiji Gakuin University; Director, Institute for International Studies at Meiji Gakuin University)
▸
Contact Information
Meiji Gakuin University, Institute for International Studies
Phone:045-863-2267 FAX:045-863-2272
E-Mail:frontier@k.meijigakuin.ac.jp