1F
※Under Construction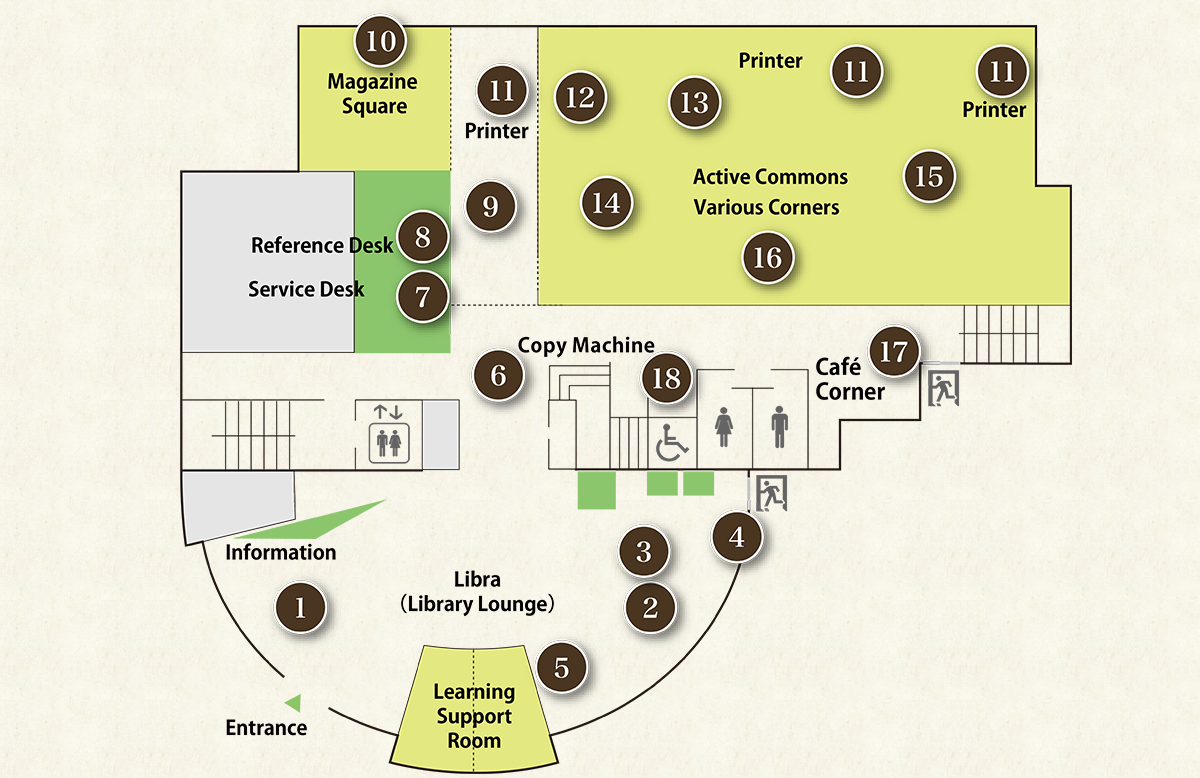 2

Magazines

Weeklies, timetables, etc., can be found here.
3

Newspaper Corner

This area features the current month's editions of major Japanese and foreign newspapers, located in the newspaper lounge and on racks.
The daily morning editions can be browsed in the newspaper lounge.
4

Exhibition Corner

This is a display of materials related to events on and off campus.
6

Circulation Counter

Here you will find the librarian's counter for assistance. If there is anything you need to know, please ask the staff members here.
7

Support Desk

This is the place for answers to questions about using the library and searching for books and periodicals.
We also take applications for inter-library loans from other universities.
8

Course-Related Books

This is a collection of materials designated by faculty members for student courses. Materials are arranged by the name of the faculty member. Books in designated corner must be used only within the library.
10

Career Assistance Corner

Here you will find a broad range of materials providing ideas about lifelong careers.
12

"From High School to University"

This exhibit features pre-beginner, easy-to-read materials that are designed to help students acquire the necessary proficiency in Japanese.
14

Reference Books

A collection of reference books including encyclopedias, dictionaries, bibliographies, case study anthologies, case books, white papers and statistical references. These materials must be used only within the library.
15

Japanese Books

Recent publications aimed at students.
16

Current Journals

Major Japanese and non-Japanese journals from the current year, including the latest editions, are arranged alphabetically by periodical name.
20

Printers

These can be used to print directly from library computers. A user ID is required.